Structure of AQAS e.V.
The following chart shows the organisational structure of AQAS e. V. In order to guarantee independence, professionalism and a high level of quality of the internal procedures, AQAS operates through various commissions and internal units with different tasks. This way, a clear division of tasks and power is guaranteed for all accreditation and review procedures.
AQAS is a membership organisation with mainly Universities and Universities of Applied Sciences as members. That is why AQAS in the core of our philosophy serves Higher Education Institutions in carrying out external quality assurance procedures. The General Assembly represents all member institutions and meets once a year to – amongst other responsibilities – biannually elect the Management Board. The Management Board takes all strategic decisions always having in mind the perspective of HEIs, reports to the general assembly once a year and appoints the members of the Accreditation Commissions.
If your organisation applies for a programme or for an institutional accreditation, a specialised Accreditation Commission is in charge that:
formally decides on the opening of a procedure and, if necessary, gives feedback to your self-evaluation report on completeness and comprehensibility,
nominates the expert group that fits your procedure,
takes a decision on the basis of the experts' report and your statement to the report on the accreditation.
Since the Accreditation Commissions include members from all types of HEIs and from various disciplines, the specificities of your programme and/or your institution can be considered.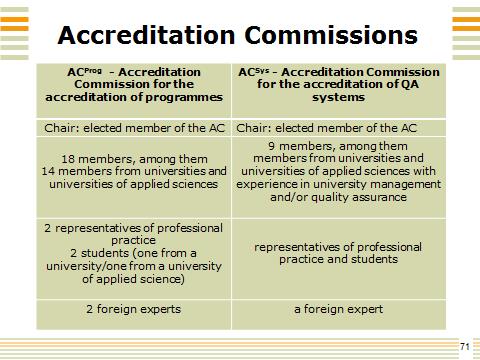 In case of a complaint or appeal, in a first step the respective Accreditation Commission deals with it in order to find a solution. If no consensus is reached, you have the possibility to raise your complaint or appeal to another specialised unit – the Complaint Commission. The Complaint Commission is mainly composed of independent members.
During the whole accreditation procedure, the AQAS Head Office located in Cologne is in service to support you. AQAS offers information and support to the Higher Education Institution at all steps of an accreditation procedure. We offer free consultation concerning the accreditation procedure at the AQAS office in Cologne before starting a procedure. To give guidance during a procedure, AQAS provides for example guidelines for preparing an application for programme accreditation or for an institutional accreditation. The agencies also give continuous feedback during all steps of a procedure.